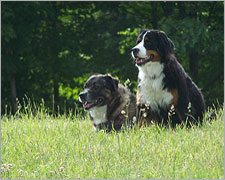 Directions & Contact Information
Please do not hesitate to call us with a question, a comment, or to get a quote and make a reservation at (607) 539-6600!!!
From Ithaca Center:
Take Route 79 East (Slaterville Rd.) toward Slaterville Springs.

At about the 7 mile point, look for the Caroline Elementary School on the right.

Take the first right after the school - Boiceville Rd.

Follow Boiceville Rd. until it ends at the stop sign, about 1/2 mile or so.

Turn left onto Central Chapel Rd. (aka) Brooktondale Rd./Valley Rd. You will see a horse farm across the "T" intersection.

Proceed 1 mile to the four corner intersection of Valley Road and Old 76 Rd. You will see a log cabin on the left.

Turn left on to Old 76 Rd.

Proceed 1 mile to Pet Playhouse on the left. You will see the red Pet Playhouse sign in front of the white house.

Drive to the top of driveway to the tan building and you have reached Pet Playhouse.
---
For GPS users, our address is:
274 Old 76 Rd.
Brooktondale, NY 14817
phone: 607.539.6600