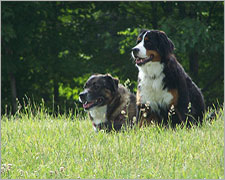 Our Services
Please do not hesitate to call us with a question, a comment, or to get a quote and make a reservation at (607) 539-6600!!!
Daily Drop-Off & Pick-Up Schedules
Day
Saturday & Sunday
Monday — Friday
Morning
8:00AM - 9:00AM
5:00PM - 12:30PM
Mid - Late Afternoon
5:00PM Only
3:00PM to 5:30PM
For more information on Drop-off, and scheduling, please go here.
---
Boarding
We offer indoor/outdoor runs in two sizes; inside dimensions 3'x4' and 4'x4': outside 3'x6' and 4'x6'. The run doors are open from 7am to 9pm weather permitting.

Dogs are let out to run in our 3.5 acre fenced area a minimum of 5 times a day. There is also an indoor playroom for those days when the weather is just too nasty.

The dogs are allowed to play with the daycare animals with owner's consent.

Each animal's daily activity is recorded on an observation sheet and a copy is provided for the owner on dismissal.

Any dog staying more than 5 days will receive a complimentary bath the day before pickup.
Daycare
Tuesday thru Friday we provide playtime and socialization for dogs.

Tuesday, Thursday and Friday's are for larger dogs and Wednesday is for small dogs.

The dogs get interactive group play with up to 15 dogs. Play consists of a swim in the pool, Frisbee, ball, wrestling or just plain running!

We also have a mid-day naptime. Please refer to the Daycare Recommendation Information Sheet for more information.
Other services
Animals may have a bath during their stay at the owner's request.

Trim nails

Remove matted hair

Clean ears